Membership
How does a subscription benefit me?
Even when you have insurance it does not usually cover 100% of the cost of transportation to a hospital following an emergency. After any co-payments or deductibles are met insurance pays a portion of that fee. The amount that is left can be substantial and the patient is personally responsible to pay that balance. A subscription is meant to limit your out-of-pocket expenses. The remaining portion of your bill, after any co-payments or deductibles are paid and insurance pays its portion, is covered by your Bethel Community Ambulance membership subscription. You pay nothing out-of-pocket.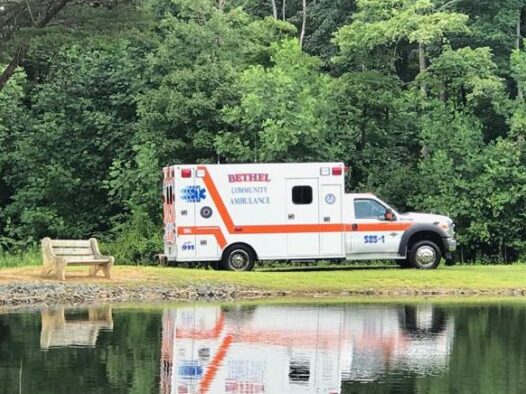 PEOPLE DEDICATED TO HELPING OTHER PEOPLE
2020- 2021 SCHEDULE OF MEMBER/NON-MEMBER RATES AND CHARGES
Effective June 1, 2020 Through May 31, 2021 IMPORTANT MEMBERSHIP INFORMATION
Bethel Community Ambulance
EMERGENCY SERVICE – DIAL: 911 – BUSINESS OFFICE – DIAL: 717-933-8934
In 2019 the Bethel Community Ambulance responded to 1,200 calls in our service area. We continue to have three ambulances to provide better service to our response area. We service Bernville, Bethel, Frystown, New Schaefferstown, Mt. Aetna, Rehrersburg, Strausstown, and surrounding rural areas. We currently have 19 volunteer crew members and 2 full time paid staff and 2 part time paid staff. Additional crew members are needed, and all necessary training is provided.
Please read the below for important ambulance information to help you better understand the types of service
provided with your membership with us.
There are four types of membership rates
Household – $60.00 per year

Individual – $50.00 per year

Senior Household (65 years and older) – $50.00 per year

Senior Individual (65 years and older) – $40.00 per year
NOTE! There will be a $75.00 charge after the third lift assist,
also there will be a charge after the 3rd refusal within the membership year.
Membership Fee
*IF YOU WOULD LIKE TO DONATE A LITTLE EXTRA, PLEASE SELECT DONATE ADDITIONAL, INCLUDE CURRENT MEMBERSHIP FEE PLUS ADDITIONAL DONATION! WE THANK YOU FOR ALL YOUR DONATIONS!
Click here to download and mail the Offline Membership Application.
Additional donations may be made on the donation page. – Click Here to DONATE
Your additional donations will be greatly appreciated.
Please have a list of current medications ready for EMS crew. Please list all family names on the form below.
Please contact your local Fire Company to purchase your Green Reflectors to help us find you when you need help.
Bethel: 717-933-5236 | Frystown: 717-673-2521 | Rehrersburg: 717-933-4646
Strausstown: 610-488-1770 | Bernville: 610-488-6592
A non-member could receive a bill for average charge for BLS call of $850.00 and ALS assisted call of $1,400.00. Your membership is a worthwhile investment. Thank You for your support and generosity in the past, we look forward to serving you in the future if needed.
*If you are currently a member you will be considered delinquent if not paid by August 31, 2020.
Contributions are tax deductible.
Thank you for your patronage – Support Your Local Ambulance.